Over the last five years, virtual annual shareholder meetings have been a small, but growing, trend. While percentage increases have been significant year-over-year, overall a relatively small number of companies held virtual meetings in that time.
Figure 1. Percentage of Russell 3000 Companies that had virtual meetings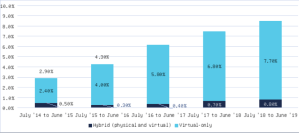 Source:  ISS Analytics
In light of the novel coronavirus, COVID-19, companies are considering the advisability of holding in-person annual meetings.  Given the timing of the COVID-19 emergence, companies with December 31 fiscal year ends may be weighing a change to their meeting format after filing their proxy statements and with little time until their annual meeting date.
Considerations for Companies Considering a Switch to a Virtual-Only Meeting Post-Proxy Filing
Are Virtual-Only Meetings Permitted in Our State of Incorporation?
As a threshold matter, a company must ensure it is incorporated in a jurisdiction that permits virtual-only meetings.  Many states, including Delaware, permit virtual-only annual meetings.  But several states, including New York, currently require in-person annual meetings and other states permit virtual meetings only if they are hybrid meetings (meaning that the company is also concurrently hosting an in-person meeting).
Is Our Company Permitted to Hold Virtual-Only Meetings?
While many states permit virtual-only meetings, some states, including Delaware, require the board to expressly authorize the ability to hold a virtual meeting.  Companies should review their organizational documents or otherwise confirm any required authorization exists and that the organizational documents do not require in-person meetings or prohibit virtual meetings.  If there are prohibitions on virtual meetings or other issues or requirements, companies should consider whether a bylaw amendment or a board resolution will be sufficient to permit the virtual meeting to go forward.  These issues may require a special meeting of the board and quick action and companies should prepare their board for this possibility.
Whom Do We Need to Involve?
For companies considering a switch to a virtual meeting, it will be important to alert necessary parties and team members to enable a rapid and seamless transition.  Internally, this generally includes the Board, the executive management team, legal and IR.  Externally, outside lawyers, a proxy distribution vendor (such as Broadridge), the transfer agent, the inspector of elections (if different than the transfer agent), any engaged IR firm and the virtual meeting vendor should be notified as soon as possible.  The company should also update its auditors.
How Do We Get the Word Out?
SEC Filings – Companies will need to update their proxy materials filed with the SEC.  For most companies, a press release filed as supplemental materials will be sufficient.
State Requirements – Most states require notice of the meeting to be provided to shareholders during a certain timeframe.  For example, in Delaware, notice must be given no fewer than ten and no more than sixty days before a meeting.  The press release filed as supplemental materials should be sufficient in Delaware if the meeting date is more than 10 days away.
Websites – Updates will need to be made to the website hosting proxy materials and the company's website.
Notices at Meeting Location – If possible, it is also advisable to post a notice at the meeting location (or at the entrance point to any meeting location) advising that the meeting will be held virtually so that any shareholder that has not seen the press release or SEC filing and turns up at the meeting location will know how to access the meeting virtually.
Companies that have already filed their proxy statements have likely begun receiving returned proxy cards and reissuing proxy cards or voter instruction forms (VIF) to correct logistical meeting information may be difficult.  Generally, it will not be advisable to re-send proxy cards or VIFs, but specific facts and circumstances relevant to the materiality of this logistical change will need to be considered before reaching this conclusion.
Ensure there is a system in place with your meeting vendor, proxy solicitor and inspector of elections to accommodate different forms of voting, including virtual voting at the annual meeting.
What Do We Do About Logistics?
Find a service provider to host the annual meeting.  Some of the existing outside vendors supporting other aspects of annual meetings provide this service.  In light of the timing considerations, companies will want to work with a provider that can nimbly assist with logistical options and best practices and ensure that there is enough time for all of the logistical procedures to be accomplished in time.
Determine how to involve the board and whether they are physically or virtually present with management.
Develop a process for the administration of shareholder proposals, including the shareholder presentation portion.  Make sure to coordinate with any shareholder proponents (or their representatives) in advance.
Determine how to administer shareholder questions at a virtual meeting.  Companies that host virtual meetings generally adopt protocols for shareholder participation.  Practice has not yet coalesced around any specific set of protocols, but having the protocols in place is important.
Reconsider the existing rules of conduct at the meeting in light of a virtual meeting and make adjustments and changes as necessary. If a company has not historically had rules of conduct for their in-person meetings, consider adopting rules of conduct for the virtual meeting.
Review and adjust the meeting script and Q&A, as necessary.  Anticipate that a switch to a virtual-only meeting may raise additional questions, including about the company's response to and views on COVID-19.  If any of the content of the annual meeting is expected to be material, ensure that the annual meeting (and Q&A portion) is in compliance with Regulation FD (or, conversely, ensure that any material information is disseminated in accordance with Regulation FD ahead of the meeting).
How Will Shareholders Access the Meeting?
The hosting vendor will be able to assist.  A company switching its annual meeting may have fewer options for access, and the company should discuss with its vendor the best way to maximize accessibility (e.g., it may be more difficult to provide access through smart-phone scanning or QR codes without resending proxy cards).
As discussed above, many states have minimum time periods for notifying shareholders of a meeting (including the location and means of participation), but COVID-19 may put companies in a position where they determine to alter their meeting format with less than the minimum time period preceding the meeting date.  This predicament leaves companies with a choice between proceeding with the meeting on the original timetable notwithstanding the change to format or taking action to postpone or adjourn the meeting to a later date.  Postponements can be costly because they may require new proxy cards, mailings, and potentially even refiling the proxy materials.  In addition, in some states, shareholders can sue to compel an annual meeting if none has been held within a certain amount of time since the prior meeting (e.g., 13 months in Delaware), although this is unlikely to be the sole factor in commencing litigation.
Generally, the risk that the validity of a meeting will be challenged as a result of the announcement of a change in format at a time when it is too late to satisfy the minimum notice period before the meeting is likely to be very low, but facts and circumstances should be considered (e.g., whether items on the meeting agenda are contested).
How Will Our Investors Feel?
The COVID-19 circumstances currently leading companies to consider changing their annual meeting to a virtual-only meeting constitute unexpected and extenuating circumstances.  Nonetheless, it is important to remember that, at least historically, virtual-only shareholder meetings have been the subject of some criticism.
Some significant investors and groups historically have opposed virtual-only meetings in the past, including the New York City Comptroller, CalPERS and The Council of Institutional Investors (CII).  The New York City Comptroller has voted against governance committee members at companies that hold virtual-only meetings.
Glass Lewis amended its proxy voting guidelines in 2018 to provide that it expects "robust disclosure in a company's proxy statement which assures shareholders that they will be afforded the same rights and opportunities to participate as they would at an in-person meeting"[1].  While Glass Lewis may have released its proxy voting recommendations on a company that has already submitted its proxy statement, it may nonetheless be helpful to address this point in any supplemental materials.
What About Special Meetings?
The considerations are generally the same as for an annual meeting, with the addition of the need be attentive to the relevant covenants in the merger agreement in the case of a special meeting to approve a merger.
ENDNOTE
[1] https://www.glasslewis.com/wp-content/uploads/2016/11/Guidelines_US.pdf.
This post comes to us from Freshfields Bruckhaus Deringer. It is based on the firm's memorandum, "How Does My Company Make the Switch to a Virtual Annual Meeting Post-Proxy Filing?" dated March 9, 2020, and available here.