On Wednesday, November 18, 2020, the staff of the Division of Corporation Finance (the "Division") of the Securities and Exchange Commission ("SEC" or the "Commission") took another step forward for crypto regulation by granting a no-action letter to IMVU, Inc. ("IMVU"), a software development company that offers virtual world platforms, to sell its Ethereum-based token, VCOIN. The relief provides that the Division will not recommend enforcement action to the Commission if IMVU offers and sells VCOIN, which is transferable both on and off of IMVU's platform, without registration under Section 5 of the Securities Act of 1933 (the "Securities Act") and does not register VCOIN as a class of equity securities under Section 12(g) of the Exchange Act of 1934 (the "Exchange Act"). This is only the third no-action letter provided to a token seller by the SEC, and the first time the SEC has provided relief for the sale of tokens that may be converted back to fiat by purchasers.
Background
IMVU's platform is a fully functional online avatar-based social community, with a reportedly large number of monthly active users, active creators and service providers, and a catalogue of millions of digital items that may be purchased on the platform, according to IMVU's letter to the SEC. Users are currently able to purchase or earn credits on the platform that can be used to pay for goods and services on the platform, but IMVU is planning to offer VCOIN in order to allow users, particularly the creators and service providers, a way to convert their earnings on the platform to fiat currency, and VCoins would be immediately available to be used for this purpose upon sale. IMVU has committed to providing an unlimited supply of VCOIN, which can be bought from and sold to IMVU at a fixed price, minus transaction fees. IMVU will also implement threshold limits for the transfer, conversion, and purchase of VCOINS, such as a daily purchase limit of $500 and a holding period of 45 days. IMVU asked the SEC to grant it no-action relief in connection with IMVU's offer and sale of VCOIN without registration under Section 5 of the Securities Act or registration as a class of equity securities under Section 12(g) of the Exchange Act.
SEC Considerations
In granting no-action relief, the SEC noted that it reached its position based on several factors, which were very similar to the factors the SEC considered essential in its two other no-action letters to token sellers, Pocketful of Quarters ("PoQ"), and TurnKey Jet ("TKJ"). The chart below illustrates the applicable factors that the SEC considered in each no-action letter.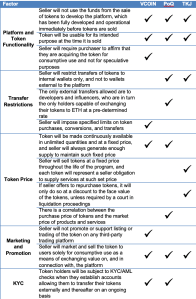 Implications
While there are many common factors that the SEC considered in all three no-action letters, in the case of PoQ and TKJ, the SEC seemed to place importance on the fact that users could not buy, sell, or trade either PoQ's Quarters or Turnkey tokens or generally transfer them to outside wallets. This was similar to no-action relief the SEC provided to various golf clubs in connection with selling equity memberships in the clubs, where the equity membership was only transferable to the club.[1] In PoQ, developers and influencers with approved accounts were also able to exchange their PoQ Quarters for ETH at pre-determined rates, and IMVU incrementally broadens interaction outside of a closed system by generally permitting all VCOIN users, subject to certain restrictions, to transfer their VCOIN to a digital wallet that would allow them to conduct transactions off the platform in addition to selling them to IMVU for fiat currency. Furthermore, while the scope of the IMVU no-action letter is still very limited, the SEC noted new factors, such as requiring purchasers to affirm their intention of buying the token for consumptive use and not for speculative purposes, placing additional purchase, conversion, and transfer limits, and representing that IMVU will not promote or support listing or trading of the token on any third-party trading platform. SEC no-action letters are fact-specific and may not necessarily be relied on by others. Thus far, no-action letters have been extremely narrow in the blockchain area, but the series of no-action letters do provide additional guidance on SEC views for prospective token sellers aiming to structure their ecosystem in a way that would allow them to issue digital assets under certain conditions without registration.
ENDNOTE
[1] See, e.g., Olahana Golf Club, Inc. No-Action Letter (July 31, 2003).
This post comes to us from O'Melveny & Myers LLP. It is based on the firm's memorandum, "The SEC's Most Recent No-Action Letter on Digital Assets—Is the SEC Moving Beyond a Closed Box for Digital Asset Issuers?," dated November 24, 2020, and available here