Global greenhouse gas (GHG) emissions decreased by 6.4% in 2020, largely due to the COVID-19 pandemic. While encouraging at first glance, many climate change experts have pointed out that this result will have hardly any long-term effect on curbing climate change.
The link between economic activity and emissions is hard to ignore. As was noted recently in Nature, China is a good example of this. Its emissions reduced significantly early in the year but then bounced back quickly when the COVID pandemic was brought under control. The same can be expected for global emissions in 2021. The International Energy Agency (IEA) is expecting energy-related global emissions to head for their second largest annual increase ever,  with coal demand set to increase by 60%, more than all renewables combined.
These developments can be contrasted with the approximately 124 states that have made Net Zero pledges. In a recent media interview, Executive Director of the IEA Fatih Birol described the discrepancy between words and action "shocking", "very disturbing" and "really disappointing."
Figure 1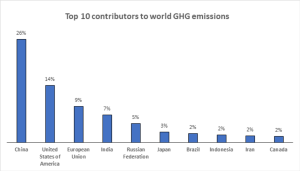 Source: ISS ESG, using IEA data from IEA (2019) World Energy Balances, http://www.iea.org/statistics, All rights reserved; as modified by Institutional Shareholder Services Inc.
ISS ESG Sovereign Climate Data shows that the top 10 emitting countries are currently responsible for approximately 71% of the world's emissions, with China and the U.S. contributing 26% and 14% respectively.
Some countries have sharpened their climate goals significantly in recent years. The UK, for example, has pledged to become Net Zero by 2050. The two largest emitters have taken their time, however.
In September 2020 China's President Xi Jinping made a historic pledge that his country would reach Net Zero emissions by 2060, implicitly taking on a leading role in the global fight against climate change.
In the U.S. the results of the November 2020 elections paved the way for a new, more ambitious climate change policy. One of President Biden's first official acts was for the U.S. to rejoin the Paris Agreement, and three months later the U.S. drew level with China, publishing a brand new climate target to reach Net Zero by 2050. Two days before President Biden's virtual climate summit in late April 2021 the UK raised the bar again, setting "the world's most ambitious climate change target" to reduce its GHG emissions by 78% by 2035 compared to 1990 levels.
This high-level Net Zero arms race runs contrary to the IEA's pessimistic projections detailed above, however. Net Zero pledges do not always lead to actual impacts on mitigating the climate emergency, as noted by ISS ESG's Head of Climate Solutions Max Horster in his recent paper 'Net Zero: Thanks for NOTHING'. China's dependence on burning coal as well as its plans to keep building new coal fired power plants both internally and abroad raise the concern that the pledge will be little more than a lofty target. Or to use Fatih Birol's words:
"Commitments alone are not enough. We need real change in the real world. Right now, the data does not match the rhetoric, and the gap is getting wider and wider."
Figure 2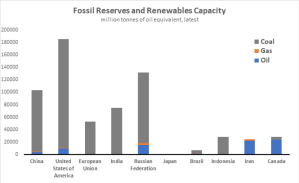 Source: ISS ESG
Path dependency plays a role in the decisions that countries take in terms of climate action. ISS ESG data shows that of the top ten country emitters, most hold sizeable fossil fuel reserves. In order to embark on a more sustainable trajectory, they need to ensure that these reserves stay in the ground. Only a few economies have added sizeable renewable capacity relative to overall electricity generation additions, however (see Figure 3 below). As the data shows, some countries were still increasing their share of non-renewable energy sources in recent years.
Figure 3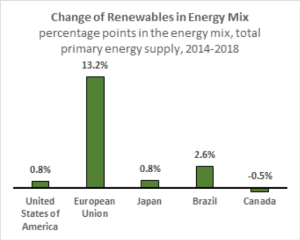 Source: ISS ESG, using IEA data from IEA (2019) World Energy Balances, http://www.iea.org/statistics, All rights reserved; as modified by Institutional Shareholder Services Inc.
At this stage it is difficult to assess the real-world impacts of the current crop of national Net Zero commitments, but it is safe to say that ambitious action needs to happen quickly if the world is to meet the targets set out by the Paris Agreement.
Actions speak louder than words. Investors in Sovereign debt have the capacity to go further than just incorporating public pledges and formal adherence to international accords like the Paris Agreement into their responsible investment methodologies. They can assess whether sovereigns are really making a difference on global warming.
The ISS ESG Sovereign Climate Data set and Country Rating provide investors with the data they need to analyze the climate risks of their sovereign investments. ISS ESG offers data sets showing the climate transition risks faced by countries regarding emissions, energy use and reserves.
This post comes to us from Institutional Shareholder Services. It is based on the firm's ISS Insights, "Winning the Net Zero Arms Race – Commitment vs Action as Investors Seek Answers on Sovereign Climate Performance," dated April 29 2021, and available here.