Since its inception, ISS Securities Class Action Services LLC ("ISS SCAS") has tracked more than 13,000 shareholder class actions across the world, including 12,000+ cases within the United States. In this report, ISS SCAS closely examines the largest securities class action settlements by U.S. state, as well as the District of Columbia.
In the first edition of this report, published in 2018, ISS SCAS identified 48 cases as the largest securities class action settlements, by total settlement amount and by state. In this updated version, ISS SCAS provides a refresh of the data, including recently settled cases that now meet the high bar of the largest settlement by state. Additionally, ancillary charts are included to provide greater insight into the firms involved within securities litigation.
Of the largest cases by state, key highlights include:
The 49 settlements[1] total $32.5 billion (or an average of $663.4 million);
Seven (7) states had settlements valued at $1 billion or higher;
Only one (1) state had its largest settlement valued at less than $10 million;
Three (3) states – Alaska, Hawaii, and Wyoming – have yet to experience a class action settlement within their Federal court dockets;
2016 saw the largest quantity of settlements.
The most active lead plaintiff law firms from the 49 listed settlements include Robbins Geller Rudman & Dowd[2] with 19 cases worth a total of $13.18 billion, and Bernstein Litowitz Berger & Grossmann with 13 cases worth a total of $12.96 billion. The notation of these two firms at the top of the list is not surprising, Robbins Geller and Bernstein Litowitz often rank in the top of ISS SCAS' "The Top 50" annual report of lead plaintiff firms.
In terms of managing investor claims and disbursing funds from these 49 settlements, the most active Claims Administrator is Gilardi & Co. with 20 cases, including two billion-dollar settlements (Enron in Texas and Household International in Illinois). The second leading Claims Administrator is Epiq Systems[3] with 12 cases, including three billion-dollar settlements (WorldCom in New York, Tyco International in New Hampshire, and Royal Ahold in Maryland).
The largest case not included within this report remains the $3 billion Petrobras settlement, the fifth largest of all-time, as the settlement occurred in New York, thus slotted behind the state's all-time largest settlement, WorldCom. In fact, of the 16 all-time settlements to surpass $1 billion, 50 percent took place within the United States District Court for the Southern District of New York.
For more information on both the largest federal and state cases, plus SEC Disgorgements, please see ISS SCAS' The Top 100 U.S. Settlements of All-Time report.
METHODOLOGY
This report illustrates the largest securities class action settlements, by total settlement amount, within each of the 50 U.S. states and the District of Columbia. It provides information on the company name, settlement date, state of settlement, and the total settlement fund. The ISS Securities Class Action Services "Largest Settlements by State" report does not include non-U.S. cases, antitrust cases, state court cases, nor SEC disgorgements.
For cases with multiple partial settlements, the amount indicated in the total settlement amount is computed by combining all partial settlements. The settlement date reflects the year of the most recent settlement receiving final approval from the court. Cases in the "Largest Settlements by State" report are limited to those that were initially filed in Federal court on or after January 1, 1996. Only court approved settlements are included. Lastly, the state in which the settlement appears is based upon the court location of the case, not necessarily the location of the company's headquarters.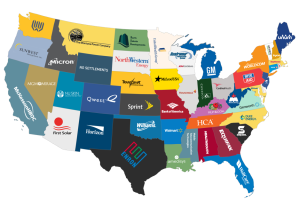 LARGEST SETTLEMENTS BY STATE
State
Settlement Name
Settlement Date
Total Settlement Amount
Alabama
HealthSouth Corp.
11-Jan-07
$804,500,000
Arizona
First Solar, Inc.
30-Jun-20
$350,000,000
Arkansas
Wal-Mart Stores, Inc.
08-Apr-19
$160,0000,000
California
McKesson HBOC Inc.
27-Jan-06
$1,052,000,000
Colorado
Qwest Communications International, Inc.
29-Sep-06
$445,000,000
Connecticut
Xerox Corp.
14-Jan-09
$750,000,000
District of Columbia
Federal National Mortgage Assoc. (Fannie Mae)
06-Dec-13
$153,000,000
Delaware
DaimlerChrysler AG
05-Feb-04
$300,000,000
Florida
WellCare Health Plans, Inc.
04-May-11
$200,000,000
Georgia
Equifax, Inc.
26-Junt-20
$149,000,000
Idaho
Micron Technology, Inc.
28-Apr-11
$42,000,000
Illinois
Household International, Inc.
20-Oct-16
$1,575,000,000
Indiana
Conseco, Inc.
07-Aug-02
$120,000,000
Iowa
McLeodUSA, Inc.
29-Nov-06
$30,000,000
Kansas
Sprint Nextel Corporation
12-Aug-15
$131,000,000
Kentucky
Fruit of the Loom, Inc.
03-Mar-06
$23,200,000
Louisiana
Amedisys, Inc.
20-Dec-17
$43,750,000
Maine
UnumProvident Corp.
28-Jun-02
$45,000,000
Maryland
Royal Ahold, N.V.
16-Jun-06
$1,100,000,000
Massachusetts
Raytheon Company
06-Dec-04
$460,000,000
Michigan
General Motors Corp.
06-Jan-09
$303,000,000
Minnesota
UnitedHealth Group, Inc.
23-Sep-09
$925,500,000
Mississippi
Mobile Telecommunication Technologies Corp.
06-Nov-98
$10,000,000
Missouri
BankAmerica Corp.
16-Apr-04
$490,000,000
Montana
Montana Power Company
20-May-10
$39,280,000
Nebraska
Transcrypt International, Inc.
27-Mar-00
$31,145,200
Nevada
MGM Mirage
01-Mar-16
$75,000,000
New Hampshire
Tyco International, Ltd.
19-Dec-07
$3,200,000,000
New Jersey
Cendant Corp.
28-Jun-00
$3,319,350,000
New Mexico
Horizon/CMS Healthcare Corp.
12-Sep-97
$20,000,000
New York
WorldCom, Inc.
09-Sep-05
$6,194,100,714
North Carolina
Duke Energy Corporation
02-Nov-15
$146,250,000
North Dakota
North Dakota Developments, LLC
24-Aug-16
$5,100,000
Ohio
Cardinal Health, Inc.
14-Nov-07
$600,000,000
Oklahoma
Williams Companies, Inc.
12-Feb-07
$311,000,000
Oregon
Sunwest Enterprise
09-Feb-11
$52,500,000
Pennsylvania
Rite Aid Corp.
06-Apr-01
$319,580,000
Rhode Island
CVS Caremark Corp.
29-Feb-16
$48,000,000
South Carolina
Safety-Kleen Corp.
31-May-05
$197,622,944
South Dakota
NorthWestern Corp.
13-Jan-05
$40,190,000
Tennessee
HCA Holdings, Inc.
14-Apr-16
$215,000,000
Texas
Enron Corp.
24-May-06
$7,242,000,000
Utah
Nu Skin Enterprises, Inc.
13-Oct-16
$47,000,000
Vermont
Keurig Green Mountain, Inc.
22-Oct-18
$36,500,000
Virginia
Genworth Financial, Inc.
26-Sep-16
$219,000,000
Washington
Washington Mutual, Inc.
04-Nov-11
$216,750,000
West Virginia
Massey Energy Company
04-Jun-14
$265,000,000
Wisconsin
Jay Global, Inc.

Roadrunner Transportation Systems, Inc.

27-Dec-18

26-Sep-19

$20,000,000

$20,000,000
NOTES
Includes only cases with a filing date post PSLRA.
Includes Federal securities class action litigation settlements only (not SEC Disgorgements or State cases or Antitrust cases).
The case listing is based upon largest settlement in the court location (not the company's headquarters).
Settlement totals include cash (and non-cash amounts, if applicable) and may also include multiple defendants — where settlements with similar allegations have occurred.
No securities class action settlements have occurred in Alaska, Hawaii, and Wyoming.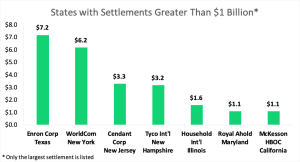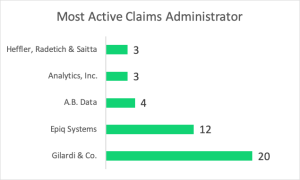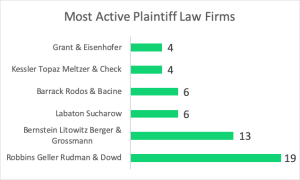 ENDNOTES
[1] The 49 settlements come from 47 states and the District of Columbia (Wisconsin has two settlements listed within this report – due to a tie).
[2] Includes predecessor firms Lerach Coughlin Stoia Geller Rudman & Robbins and Coughlin Stoia Geller Rudman & Robbins.
[3] Includes Garden City Group, which Epiq acquired in June 2018.
This post comes to us from Institutional Shareholder Services. It is based on the firm's report, "The Largest U.S. Settlements by State," dated as of July 1, 2021.