As 2021 came to a close, the final tally of new U.S. shareholder class action complaints declined for the second straight year (this followed a record number of new cases from 2017 – 2019). Industry experts point to three factors for the two-year drop in newly filed cases: the ongoing COVID pandemic, a decline in merger objection complaints, and a strong, resilient stock market.
However, as previously reported by ISS Securities Class Action Services, the good news for investors is that the quantity of settlements – as well as the total value of settlements – continues to be strong throughout the pandemic. And, as we enter 2022, the pace shows no signs of slowing as the near-term pipeline of shareholder settlements exceeds $4 billion.
There are two categories of settlements that exceed $4 billion: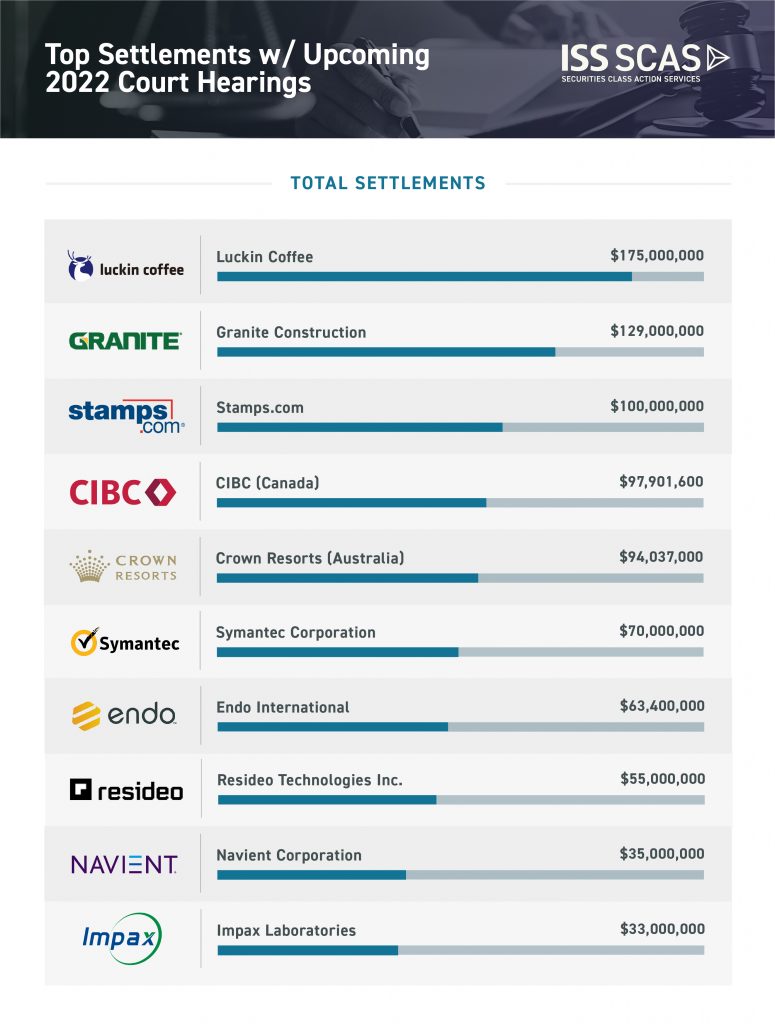 Tentative Agreements – these are class actions where the plaintiffs and defendants have agreed to suspend litigation in return for a monetary settlement. The terms of the settlement were presented to the court and now require a judge to formally approve in the weeks and months ahead. Once this occurs, the claims filing process is announced and investors become a little closer to obtaining any eligible recoveries. These cases currently total $2.88 billion across 43 class actions, with the largest cases valued at USD $1.1 billion (Steinhoff International in Netherlands & South Africa), $809.5 million (Twitter, Inc.), NCI Building Systems, Inc. ($100 million), Novo Nordisk A/S ($100 million), and Mattel, Inc. ($98 million).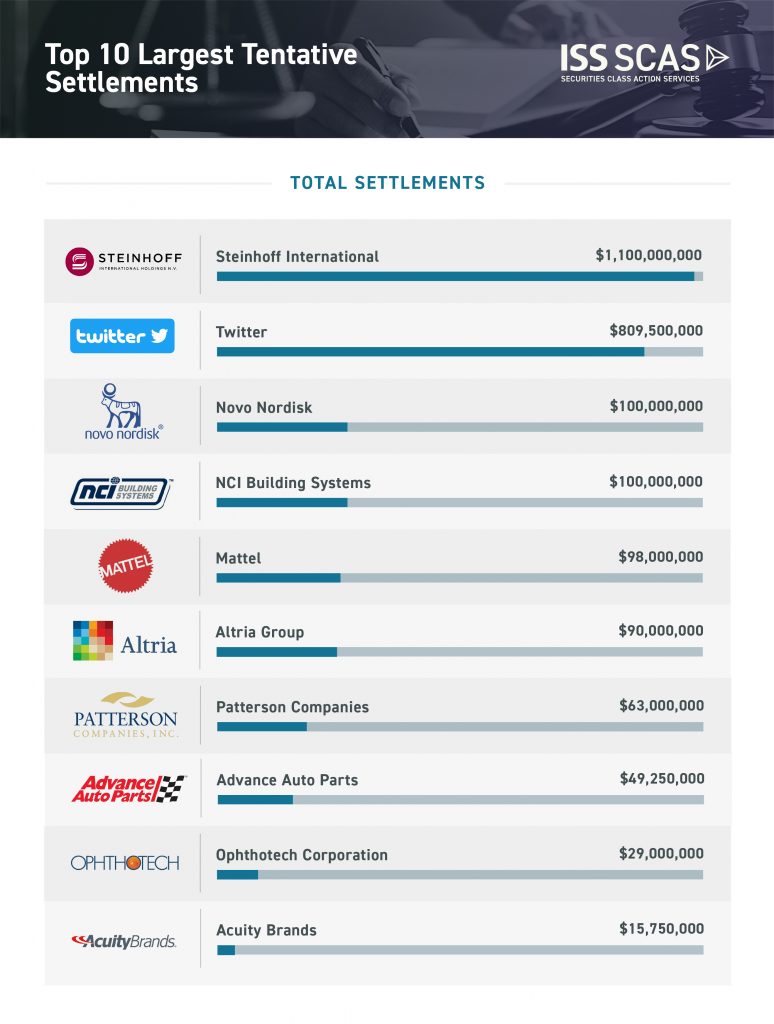 Details on a few of the more high profile announced settlements include:
The Steinhoff International settlement will likely exceed €1 billion as the retailer looks to fully resolve an accounting scandal from 2017. Since an update in mid-2021 by ISS Securities Class Action Services, positive steps have occurred in an attempt to legally settle this action in both Netherlands and South Africa. Depending upon the final amount of the settlement, once legally approved, this action will likely become the second largest shareholder settlements of all-time outside North America (behind the Ageas (f/k/a Fortis N.V.) €1.308 billion settlement in 2018).
The Twitter class action was initially filed on September 16, 2016 and alleged that during a six-month period in 2015, the social media company misled shareholders with regard to its growth prospects and user engagement. The case took place in the United States District Court for the Northern District of California with Robbins Geller Rudman & Dowd and Motley Rice representing shareholders as co-lead counsel. Once officially settled, this $809.5 million amount will become the 19th largest U.S. class action settlement and second largest in a California Federal court (behind the McKesson HBOC, Inc. $1.05 billion settlement in 2013).
The Mattel class action announced a tentative settlement on October 28, 2021. Once legally settled, the case will end allegations of accounting irregularities, which first came to light through a whistleblower complaint in August 2019. The toy manufacturer, along with its auditor PricewaterhouseCoopers, was accused of a $109 million income tax expense understatement and then colluding to hide the mistake. The case took place in the United States District Court for the Central District of California with Bernstein Litowitz Berger & Grossmann representing shareholders as lead counsel. Of the $98 million announced settlement, it is believed that Mattel will pay $86 million though D&O insurance policies, with PwC being responsible for the $12 million difference.
While the COVID pandemic continues to surge across the globe, disrupting business activity and the lives of millions of individuals, it is comforting to know that shareholders continue to have a vehicle such as class action litigation to successful hold public companies accountable if and when fraudulent activities are taking place.
This post comes to us from Institutional Shareholder Services. It is based on the firm's article,"$4 Billion in Expected Settlements to Kick-off 2022," dated January 5, 2022, and available here.