As the world completes a full two years of navigating the perils of the Coronavirus pandemic, U.S. shareholders continue to file class action complaints alleging companies with various acts of fraud related to COVID-19.
As previously reported by ISS Securities Class Action Services, the very first COVID-19 related class action was filed on March 12, 2020 in USDC Florida (Southern) against Norwegian Cruise Line Holdings. Shareholders alleged the Miami-based company with deceptive sales tactics and misleading updates to the investor community related to its business and operations.
Since the Norwegian Cruise Line complaint was filed, ISS SCAS has tracked a total of 54 COVID-19 related cases. The two charts below illustrate these most recent 23 months:
A total of 28 cases were filed in 2020, 21 cases in 2021, and five cases have been filed through the first six weeks of 2022.
This includes a wide array of allegations against companies in many different industries, including (but not limited to) biotechnology, software, pharmaceutical, health care, travel, technology, financial, real estate, energy, and food services.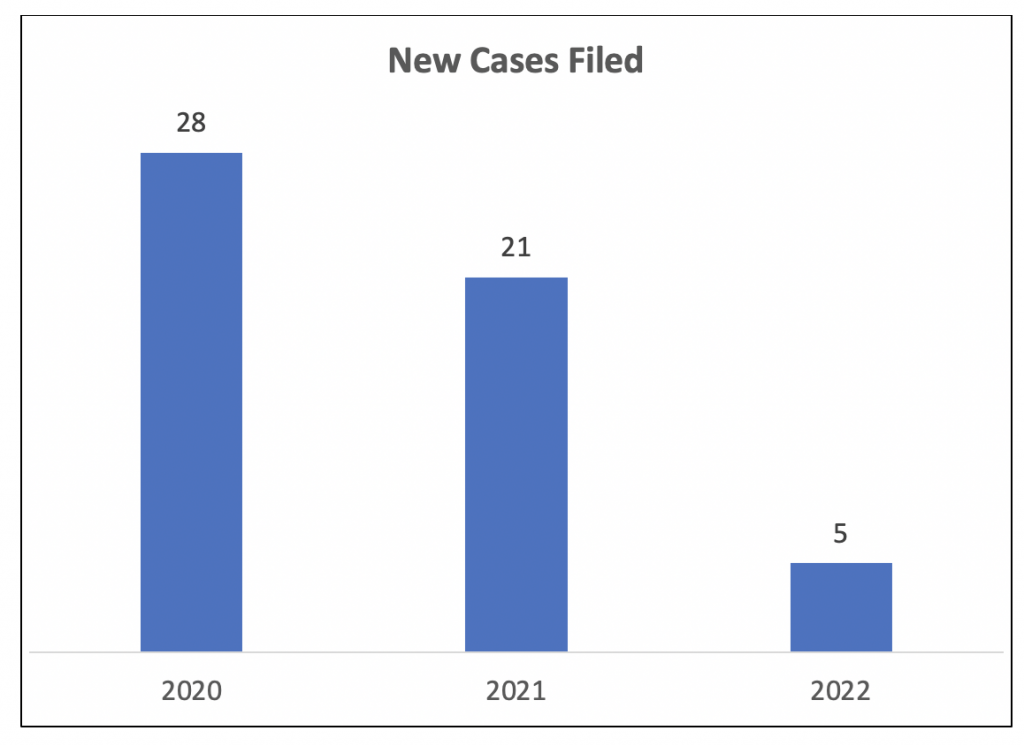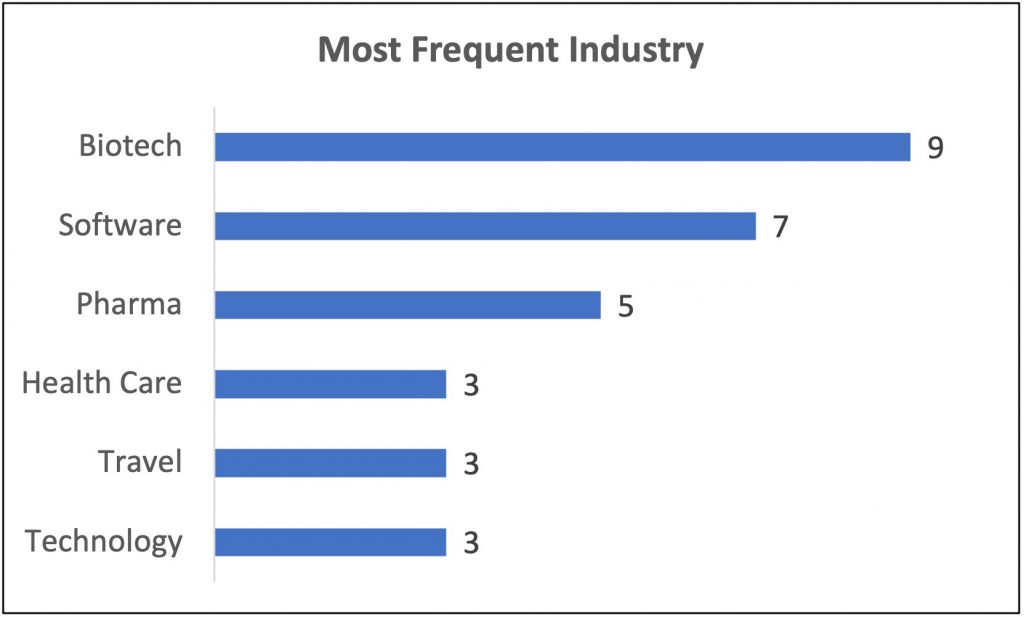 There are a broad assortment of allegations in a wide range of industries; a few examples of the 54 COVID-19 related complaints accuse companies of the following:
Failure to disclose the truth that vaccine clinical trials had suffered manufacturing errors (AstraZeneca).
False and misleading information about a vaccine candidate as executives suspiciously timed stock trades (Vaxart).
Failure to implement proper pandemic-related safety protocols for plant workers which led to misleading shareholders about lower production and revenue shortfalls (Tyson Foods).
Misleading statements and failure to disclose that recent revenue growth was attributable almost exclusively to the pandemic, which is now leading to a drop in demand as restrictions are being lifted (Peloton and DocuSign).
Submission of a misleading IPO Registration Statement that touted the company's application timeline for an approved COVID-19 test (Talis Biomedical).
Since the first COVID-19 related class action was filed on March 12, 2020, ISS SCAS has tracked a total of 526 newly filed investor complaints in U.S. Federal court, 49 of which included allegations related to COVID-19; and 151 newly filed investor complaints in U.S. State court, five of which included allegations related to COVID-19.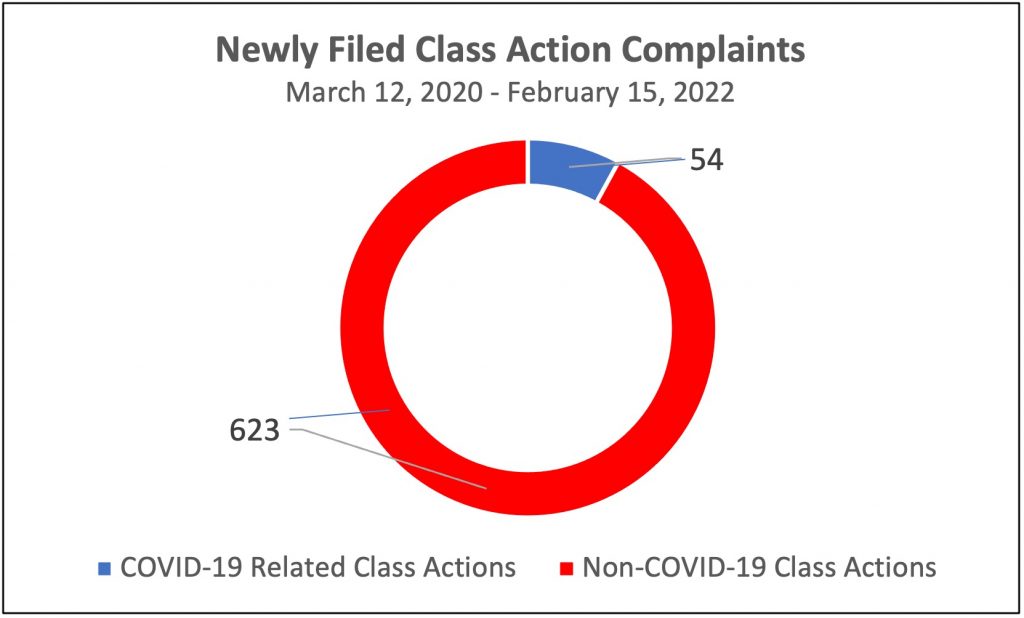 Of the 49 class action complaints filed in Federal court, not surprisingly, the two most prevalent venues include USDC California (Northern) and USDC New York (Southern), with nine cases and eight cases, respectively. The Delaware Court of Chancery is the most popular State venue, with four of the five State court filings.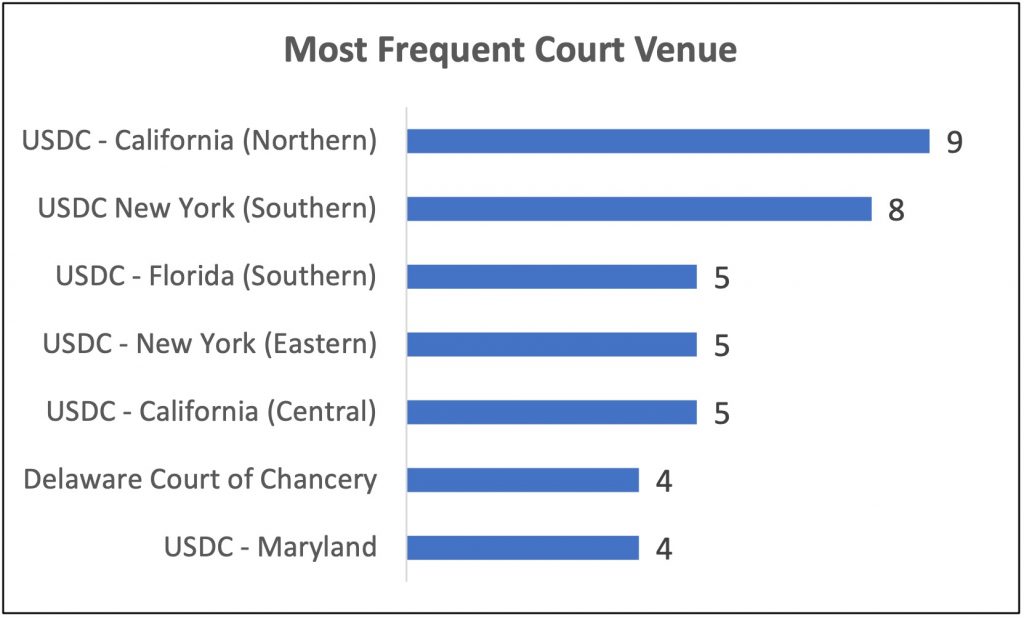 To date, none of the 54 cases have legally settled. One action is in the "tentative settlement" stage – plaintiffs and the defendant have agreed to terms and now await court approval. The following chart illustrates the current landscape as to where the 54 cases stand in terms of the litigation life cycle.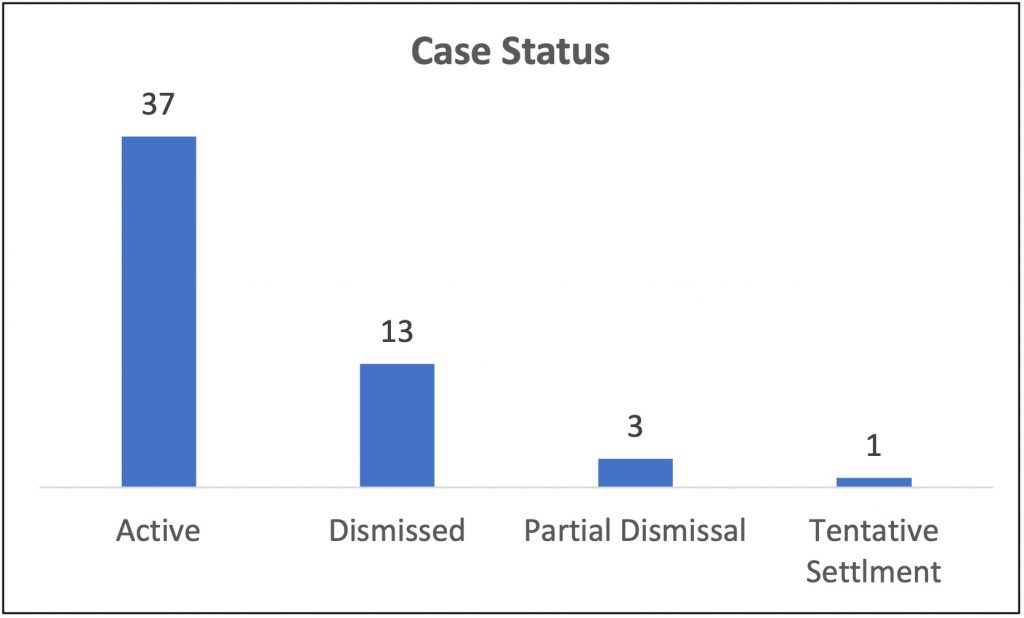 A few key notes:
To see only one tentative settlement to date is not unusual: ISS SCAS has calculated that the average time frame for an investor class action to continue to the settlement stage is approximately three years.
The one COVID-related tentative settlement is with SCWorx, Corp. – a New York City-based provider of software in the health care sector; plaintiffs alleged the company misled shareholders by hyping its COVID-19 test kits during early days of the pandemic. The settlement is for a nominal amount of $3.3 million, which includes a combination of cash and stock. A Southern District of New York judge will need to sign-off to officially approve the settlement.
The very first COVID-19 case filed in the U.S. – noted at the beginning of this article – Norwegian Cruise Line Holding was dismissed on April 10, 2021, almost 11 months following the initially filed complaint. The court determined plaintiffs failed to plead actionable misstatements or omissions and scienter for a claim of securities fraud under Section 10(b) of the Securities Exchange Act of 1934 and Rule 10b-5.
A few final and interesting statistics related to the 54 COVID-19 related class action complaints:
In terms of specific allegations type, investors allege 10b-5 violations in 35 of the cases; Section 11 violations in nine of the cases; both 10b-5 and Section 11 violations in six of the cases; and the remaining four shareholder complaints allege other violations (e.g., insider trading or merger transactions).
Seven of the 54 cases involve companies listed within the S&P 500 index. These companies are Carnival Corporation, Citrix Systems, Norwegian Cruise Line Holdings, Occidental Petroleum, Royal Caribbean Cruises, Tyson Foods, and Wells Fargo.
47 of the 54 cases comprise companies headquartered in the United States, while four are China-based companies, two are Canadian, and one company is headquartered in the United Kingdom. To confirm, all 54 class actions referenced in this article are U.S.-based, the seven non-U.S. companies trade on U.S. stock exchanges as American Depository Receipts (ADRs).
Based upon the robust activity during these 23 months, it is clear shareholders continue to pay very close attention to the actions of publicly traded companies during the Coronavirus pandemic. However, the ability for plaintiffs to prove fraud – especially during a once-in-a-lifetime pandemic – will be a high bar to overcome. As such, ISS SCAS expects only a handful of the remaining active cases to settle – with a majority of these likely be for amounts not of significant value to damaged investors.
This post comes to us from Institutional Shareholder Services. It is based on the firm's article, "COVID-19 Update: Investor Related Class Actions," dated February 17, 2022, and available here.