Announced shareholder activist activity increased relative to 2020. The number of public activist actions (76 vs. 63), activist investors taking actions (48 vs. 41), and companies targeted by such actions (69 vs. 55) each increased. Suchlevels of activism are comparable to those found prior to the market disruption caused by the COVID-19 pandemic, as reflected in public activist actions in 2019 (76 vs. 75), activist investors taking actions (48 vs. 49), and companies targeted by such actions (69 vs. 64). The period spanning January 1, 2021 to December 31, 2021 also saw several campaigns by multiple activists targeting a single company, such as the campaigns involving Kohl's Corporation that included activity by 4010 Partners, Macellum Advisors, Ancora Advisors and Legion Partners Asset Management; Adtalem Global Education that included activity by Engine Capital and Hawk Ridge Capital; and Bottomline Technologies that included activity by Clearfield Capital Management and Sachem Head Capital Management. Inaddition, certain activists launched multiple campaigns during 2021, including Carl Icahn, Elliott Investment Management, JANA Partners, Land & Buildings and Starboard Value. Indeed, each of these investors launched fouror more campaigns in 2021 and collectively accounted for 20 out of the 76 activist actions reviewed, or 26% in total. Proxy solicitation occurred in 18% of campaigns in 2021, relative to 17% in 2020. These figures represent modestdeclines relative to 2019, in which proxy materials were filed in approximately 30% of activist campaigns for the entire year.
By the Numbers—2021 Public Activism Trends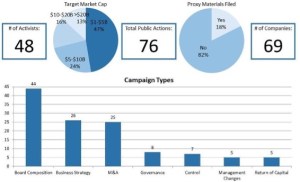 *Study covers selected activist campaigns involving NYSE- and Nasdaq-traded companies with equity market capitalizations of greater than $1 billion as of December 31, 2021 (unless company is no longer listed).
Additional statistical analyses may be found in the complete Activism Update linked below.
Notwithstanding the increase in activism levels, the rationales for activist campaigns during 2021 were generallyconsistent with those undertaken in 2020. Over both periods, board composition and business strategy representedleading rationales animating shareholder activism campaigns, representing 58% of rationales in 2021 and 51% of rationales in 2020. M&A (which includes advocacy for or against spin- offs, acquisitions and sales) remained important as well; the frequency with which M&A animated activist campaigns was 19% in both 2021 and 2020. At the opposite end of the spectrum, management changes, return of capital and control remained the most infrequently cited rationales for activist campaigns, as was also the case in 2020. (Note that the above-referenced percentages total over 100%, as certain activist campaigns had multiple rationales.)
Seventeen settlement agreements pertaining to shareholder activism activity were filed during 2021, which is consistent with pre-pandemic levels of similar activity (22 agreements filed in 2019 and 30 agreements filed in 2018,as compared to eight agreements filed in 2020). Those settlement agreements that were filed had many of the same features noted in prior reviews, including voting agreements and standstill periods as well as non-disparagement covenants and minimum- and/or maximum-share ownership covenants. Expense reimbursement provisions were included in half of those agreements reviewed, which is consistent with historical trends.
This post comes to us from Gibson, Dunn & Crutcher LLP. It is based on the firm's memorandum, "2021 Annual Activism Update," dated August 9, 2022, and available here.