The Securities and Exchange Commission is poised to revise its rules on so-called clawbacks: the process of recovering incentive compensation from current and former executives when a company is forced to make a material restatement of its accounts. With a target of releasing its revisions in October, the SEC has twice reopened public comment periods on proposals that it first advanced in 2015 to implement part of the Dodd-Frank Wall Street Reform and Consumer Protection Act. The regulator also added 10 new policy questions along with a memorandum that addressed two matters: the voluntary adoption of clawback policies by companies and whether clawbacks should apply to restatements of lesser significance, known as "little r," as well as those that have a meaningful material impact "Big R."
"Big R" vs "little r"
When reopening the comment periods, the SEC stated that it was considering whether both Big R and little r restatements should be defined as "an accounting restatement due to material noncompliance." The SEC's Department of Economic and Risk Analysis describes Big R as "restatements that correct errors that resulted in a material misstatement in previously issued financial statements as well as triggers for a compensation recovery analysis." Little r is defined as "restatements that correct errors that would only result in a material misstatement if (a) the errors were left uncorrected in the current report or (b) the error correction was recognized in the current period."
Comments Mostly Positive
The SEC only received 11 additional comments in the latest period, most of them addressing the Big R and little r issue. Most supported the adoption of policies for both types of restatements. "We continue to believe that encompassing both types of restatements in the final rule is not only consistent with the intent of Section 954 of Dodd-Frank but increases the benefits to investors that would result from the issuance of a final rule," the Council for Institutional Investors said in its comment.
Clawbacks Already a Market Norm
While the rule is yet to be finalized and implemented, some form of clawbacks have already become the market norm. ISS Corporate Solutions data shows that more than 90% of companies in the S&P 500 have adopted clawback policies covering both cash and equity. That falls to just over half for the Russell 3000 excluding the S&P 500. Most clawback policies cover both cash and equity incentives, though a small percentage of them address either one or the other.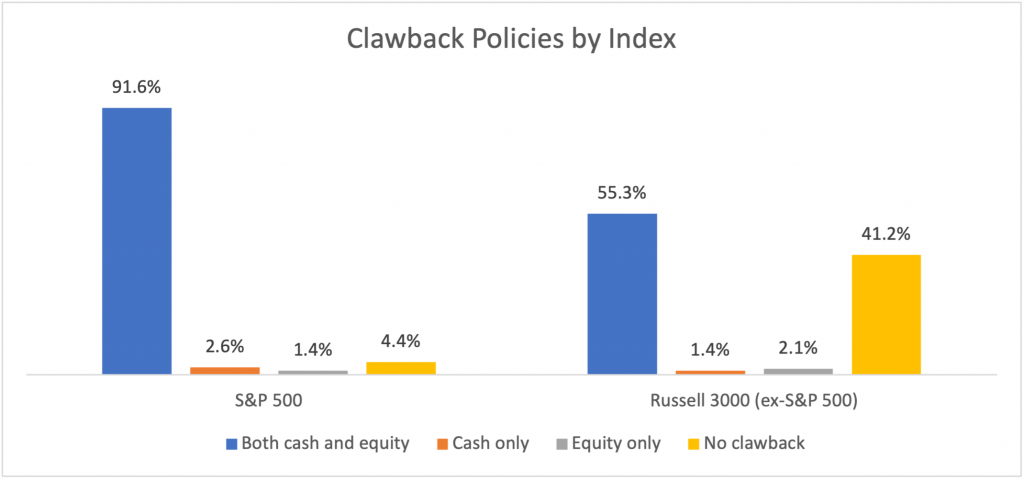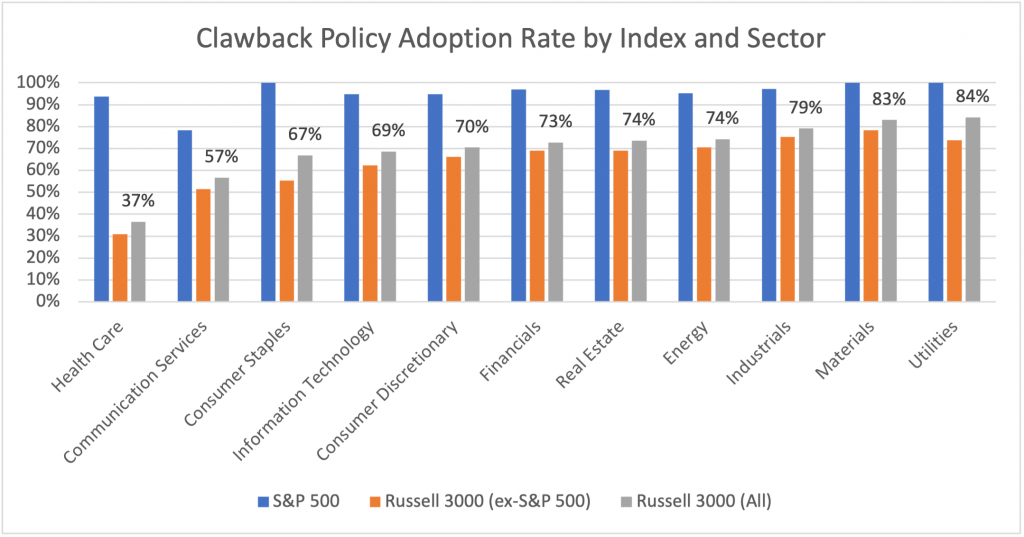 Violation of non-compete, non-solicitation, and confidentiality agreements
Failure to comply with intellectual property rights protection
Disparagement
Workplace misconduct, such as age or sexual discrimination and harassment
Criminal acts involving moral turpitude