On November 16, 2022, Dell Technologies Inc. reached a $1 billion settlement with shareholders, according to a
recently filed 8-K
filed with the U.S Securities and Exchange Commission. The announced agreement looks to resolve investors' allegations that they were short-changed billions of dollars for their Class V stock in connection with a 2018 transaction that turned Dell into a public company. The settlement comes as the shareholder lawsuit alleging various breaches of fiduciary duties against Michael Dell, Silver Lake, and others was set to go to trial next month in the Delaware Court of Chancery.
In the asserted transaction valued at $24 billion, Dell's controlling shareholders – Michael Dell, Egon Durban, and the private equity firm Silver Lake – allegedly expropriated $10.7 billion from public Class V shareholders by forcing them to convert their shares into cash or privately held shares of Class C common stock at an unfair price. Class V stock was a publicly traded "tracking stock" that tracked the performance of VMware, Inc.'s publicly traded shares. However, the class action complaint alleges the purported $120 per share consideration fell well below the market price of the VMware stock that the Class V stock was intended to track.
The alleged multi-billion-dollar windfall Dell's controllers received at the expense of shareholders was further compounded by the "egregious" overvaluation of privately held Dell C shares – internally valued at $6 billion less than what Dell claimed – according to investors.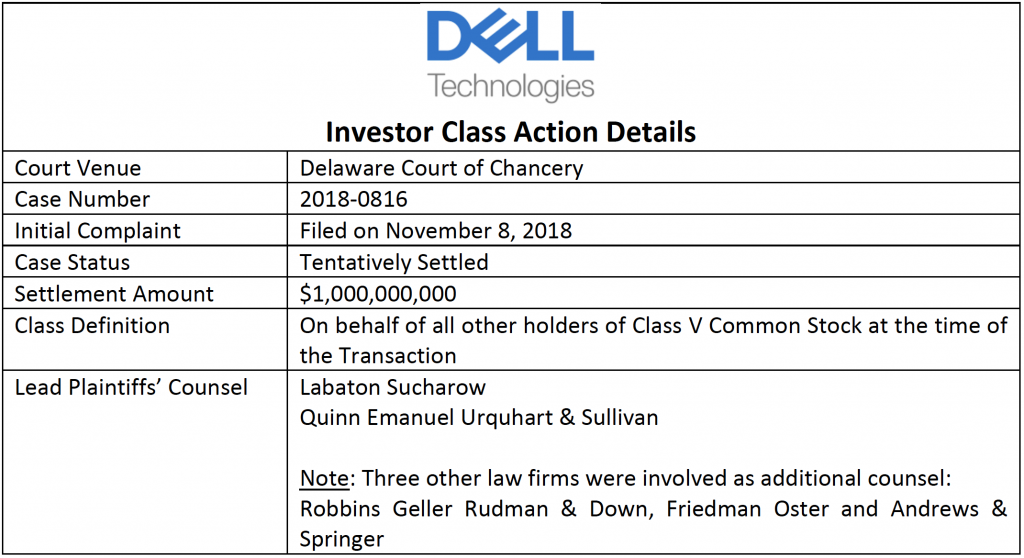 The class action complaint, initially filed on 8 November 2018, further alleges:
While a special committee was established, Dell was able to bypass the committee, which was never independent or empowered to oversee the forced conversion
The controllers drastically overvalued Dell's Class C stock, with substantial assistance from their financial advisor, Goldman Sachs, who received a $70 million success fee
The controllers and Goldman Sachs tainted the process by coercively threatening a forced conversion
The stockholder vote was the product of Class V stockholders receiving material misinformation and Dell omitting critical information
Prior to the claims filing procedure – which will allow investors to participate within the recovery process – the tentative $1 billion settlement must first be approved by Vice Chancellor Travis J. Laster. Vice Chancellor Laster previously rejected Michael Dell and the other defendants' attempts to dismiss the suit, which set up the December 2022 trial.
The $1 billion payout covers claims against Michael Dell, other Dell directors, Silver Lake, as well as Goldman Sachs. "This is an historic result — one that can be the product only of a very strong case," said Minor Myers, a professor at the University of Connecticut School of Law. "This is a good result, for sure, but the risk that the defendants faced at trial had to be colossal to result in a settlement like this."
Once officially approved by the Vice Chancellor, this shareholder-related case will become:
The 17th billion-dollar settlement and 17th largest U.S. class action of all-time (coincidentally, just behind and just ahead of two American International Group, Inc. settlements… $1,009,500,000 in 2013 and $970,500,000 in 2015)
The largest settlement in a U.S. state court (the 16 larger settlements all took place in various U.S. federal courts)
The largest settlement reached in the Delaware Court of Chancery and the largest recorded in the state of Delaware, overall (surpassing the $300 million DaimlerChrysler AG settlement in USDC Delaware in February 2004)

*Tentative settlement – awaiting court approval (likely in 2023)
ISS Securities Class Action Services will continue to closely monitor this action against Dell – including court's review of the proposed settlement – and share updates to its clients and the investment community, as developments occur.
This post comes to us from Institutional Shareholder Services. It is based on the firm's article, "Dell Agrees to $1 Billion Payout – To Become a Top 20 All-Time Shareholder-Related Settlement," dated November 28, 2022, and available here.