Sound policymaking has helped India modernize and achieve robust economic growth, positioning it to become an increasingly important player on the world stage. But recent developments – and scandals – show that the government must address some major issues if it wants to sustain India's global rise. — Nouriel Roubini[1]
As India chairs the G20 meeting in Bengaluru, the country emerges as one of the most economically powerful and politically important countries in the world. However, recent events are casting doubts on its commitment to the rule of law and undermining the trust of global investors.
The latest troubling development was a government raid on the offices of the British Broadcasting Corporation.  Earlier this month, tax officials spent three days ransacking the offices in Mumbai and New Delhi after the government banned a BBC documentary that criticized Prime Minister Narendra Modi for allegedly condoning deadly violence against rioters when he was chief minister of Gujarat more than 20 years ago.[2] At about the time of the raid, police in Delhi were detaining students as they gathered to watch the film.
This clear assault on the rule of law as it is commonly understood – that no man, not even the prime minister, is above the law or beyond the jurisdiction of ordinary courts – was shocking but far from the only scandal to hit India this year. In another area, the world of business, news broke in January of a brazen fraud allegedly involving one of the nation's most prominent businessman and companies and the Modi government.
The Adani Group and Activists
On January 24, financial research firm Hindenburg Research published findings of a two-year investigation that found evidence of stock manipulation and accounting fraud at the $218-billion Indian conglomerate Adani Group over the course of decades.
The stock market reaction to the findings was brutal and immediate. Within a few days, Adani Enterprises, the top company promoted by billionaire Gautam Adani, lost 50 percent of its market capitalization.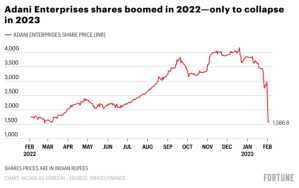 [3]
The Adani Group's attempts to rebut Hindenburg's findings were not convincing. "We are shocked and deeply disturbed to read the report published by the 'Madoffs of Manhattan' Hindenburg Research on 24 January 2023 which is nothing but a lie," began the 400-page rebuttal. It went on to call the firm's research "a malicious combination of selective misinformation and concealed facts relating to baseless and discredited allegations".[4]  Nowhere did the document answer the specific accusations of fraud. [5] News that Gautam Adani was suing  independent journalist Paranjoy Guha Thakurta in six different courts for reporting on the accusations served only to further undermine the billionaire's reputation.[6]
The Links with the Powers that Be
The Adani Group and the Indian government have long had a symbiotic relationship, and it is a growing source of concern. [7] More specifically, the meteoric rise and spectacular fall of Gautam Adani is a cautionary tale about the excessive influence of oligarchs in Prime Minister Narendra Modi's India, as Jayati Ghosh explains in the Project Syndicate. [8] Adani's businesses accounted for 25 percent of India's coal imports in 2022 under a system in which the central government allocates energy contracts, noted the Washington Post in a December 2022 article. [9]  The business ecosystem in India is dominated by strong connections between local and central governments and the financial and corporate world. Little can be done without governmental approval – which often comes at a price.
The Corruption Perceptions Index of Transparency International ranked India 85 out of 180 in 2022, and 89 percent  of Indians consider corruption to be a major problem in the country. [10] This  has been the source of great concern for international investors, both direct and indirect. While corruption remains endemic and deep-rooted, India's anti-corruption measures remain half-hearted and slow.[11] As a result, one international energy giant, Total Energies, may suffer particularly serious collateral damage. The French oil giant has invested more than $3 billion in Adani's companies over recent years.[12]
Opacity and Transparency
Nonetheless, the structure of the Adani Group should have raised eyebrows.
Ownership of the group is held by four "funds" based in Mauritius, the favorite tax heaven for Indians but, more importantly, a governance-light country. Those funds' holdings are mostly stakes in Gautam Adani's companies, a concentration of investment that is totally at odds with the notion of diversification espoused by most mutual funds and private equity funds.
India's chief financial regulator denounced this structure in 2020. The Elara India Opportunities Fund and Alderbrooke Portfolio Management Services Investment Fund have the largest exposure to the Adani group. Both have been penalized by the Securities and Exchange Board of India (Sebi) in the past. In January 2015, Sebi imposed a small fine on Elara India Opportunities Fund for failing to make shareholding disclosures within the stipulated timeline. A year before that, Sebi had barred APMS and its directors from the capital market for five years for carrying out unauthorized business activities and directed the company to refund money to investors. Albula, APMS, Cresta Investment Fund and Asia Investment Corporation all share the same building address in Mauritius and feature in the Paradise Papers, a leak of financial data related to tax havens. New Leaina Investment Fund is registered in Cyprus. [13]
That did not move the Indian stock exchanges. The stock prices of some companies of the group exceeded 400 times earnings at the end of 2022.  Given the group's limited float, that remarkable performance seems possible only if the Mauritius "funds" manipulated those prices.
Yet, some reaction seems on the way from the India Supreme Court, which is investigating the matter. "Discontinuing a much-criticised sealed cover practice it encouraged for decades," reported the Times of India, "the Supreme Court on Friday applied the salutary transparency principle to discard names of experts suggested in a closed envelope by the [The government] and said it will pick a panel headed by a retired SC judge and comprising experts for an in-depth probe into all aspects of the Hindenburg report on Adani Group resulting in a dramatic meltdown of the latter's shares." [15]
On February 4, SEBI announced its investigation of the allegations of the Hindenburg report.
A "House of Debts"
The Adani Group's troubles go well beyond stock manipulation, however.
Between 2015 and 2021, six of the group's companies raised about $10 billion through U.S. dollar-denominated bond sales that were underwritten by U.S. and European investment banks, according to financial market data provider Refinitiv. Of these 18 bond offerings, 14 were done between May 2019 and September 2021. One of these companies, Adani Ports & Special Economic Zone – which receives preferential tax treatments – was responsible for half the debt raised. These figures do not include the Adani Group's debt issued in Rupees and other currencies. The conglomerate had about $27 billion in outstanding liabilities as of March 2022. The State Bank of India provided funding for about 40 percent of debt Adani firms issued between 2020 and 2022.[16]
The full impact of the Adani Group's financial crisis is as yet unknown. While India public sector banks are likely to cover possible losses, this is not necessarily true for international bonds.
Red flags on the group's indebtedness have emerged since 2018.  Last summer, after the Adani Group completed its $10.5 billion leveraged buyout of a cement business from Swiss firm Holcim, Gautam Adani boasted to the Economic Times that his "relationship banks" – Barclays, Deutsche Bank, and Standard Chartered Bank – had "fully funded" the deal. However, the strength of the assets is expected to be largely sufficient to avoid a default on the debt.
A Wakeup Call and an Opportunity for India
Something much bigger than the future of the billionaire and his business empire is on the line: India's system of corporate governance. The fundamental weakness of that system is that the state has entrusted a few ultra-rich men with running its infrastructure and pioneering investments abroad, as the Financial Times explained in a recent analysis. [17]
If India wants to be treated as a global power, it needs to reform its governance. As Swaminathan Anklesaria Ayar wrote  in The Economic Times, "public scrutiny is always in national interest. International scrutiny can fill in for a breach and is a must for attracting global capital."
While major improvements have been made, the Adani Group story reminds us of the risks of complacency. Maybe it's understandable that the authorities and the group have been in denial,  but that matters little to investors or the Indian public-sector banks that might be substantially exposed to loans to the group. One thing is certain: It would be a serious mistake to treat this debacle as business as usual. The Adani crisis is only the latest evidence of governance problems  in India and it is time for the country to embrace transparency and implement far stronger  governance rules.
ENDNOTES
[1] https://www.project-syndicate.org/commentary/preserving-successful-india-economic-model-by-nouriel-roubini-2023-02
[2] https://www.bbc.com/news/world-south-asia-13170914
[3] https://finance.yahoo.com/news/2-stunning-charts-show-india-112245546.html
[4] https://www.proactiveinvestors.com/companies/news/1004691/adani-group-rebukes-allegations-made-by-madoffs-of-manhattan-hindenburg-research-1004691.html
[5] https://hindenburgresearch.com/
[6] https://www.barrons.com/news/how-india-s-scandal-hit-adani-group-hushes-critics-ae3de3d
[7] https://www.project-syndicate.org/commentary/adani-scandal-danger-of-relying-on-oligarchs-to-drive-economic-growth-by-jayati-ghosh-2023-02?barrier=accesspaylog
[8]  https://www.project-syndicate.org/commentary/adani-scandal-danger-of-relying-on-oligarchs-to-drive-economic-growth-by-jayati-ghosh-2023-02?barrier=accesspaylog
[9] https://www.washingtonpost.com/world/2022/12/09/india-coal-gautam-adani-godda/
[10] https://www.transparency.org/en/countries/india
[11] https://www.orfonline.org/expert-speak/indias-fight-against-corruption/
[12] https://www.forbes.com/sites/christopherhelman/2023/01/27/totalenergies-exposed-to-alleged-adani-fraud-via-joint-ventures-worth-billions/?sh=115dd3dd385b
[13] https://www.livemint.com/companies/news/4-funds-with-7-bn-in-adani-have-history-of-wrong-bets-11627498110759.html
[14] https://thegroundtruthproject.org/credit-research-firm-red-flags-adani-groups-house-of-debt/
[15] https://timesofindia.indiatimes.com/business/india-business/adani-hindenburg-row-sc-refuses-to-accept-sealed-cover-names-for-expert-panel/articleshow/98010086.cms
[16] https://www.forbes.com/sites/johnhyatt/2023/01/26/behind-the-adani-groups-house-of-cards-juicy-fees-for-wall-street-banks/?sh=69b3cddcb131
[17] https://www.ft.com/content/9840aa4e-3270-4f3b-abe4-3f6838a542d0
This post comes to us from Georges Ugeux, who is the chairman and CEO of Galileo Global Advisors and teaches international finance at Columbia Law School. He has been advising Indian companies and capital markets for 25 years and remains involved in impact projects in the country.