While there is a growing debate in the United States about a shift from public equity markets to private ownership models, Asian stock exchanges are steaming ahead. Last year a record 1,074 companies got listed in the region, and 43 percent of all capital raised through primary equity markets globally went to Asian companies. This is more capital than U.S. and European companies raised combined  and more than double the share of the global total raised by Asian companies 20 years ago.
Figure 1. Equity financing raised in primary stock markets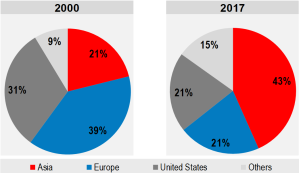 Source: OECD Capital Market Series dataset.[1]
Needless to … Read more